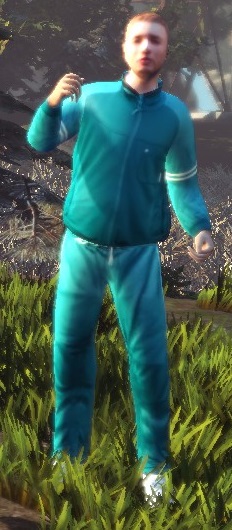 J.Sjoo is a character in the video game Goat Simulator. He can be found in several areas of the town, sporting a blue outfit. This character is a reference to Joakim Sjöö, an animator at Coffee Stain Studios AB where Goat Simulator was developed. J.Sjoo and Paul are almost impossible to know which is which. He is also the last human to ever be created in Goat simulator. If you look closely he actually has a beard.
Locations
Edit
The following is a list of locations where J.Sjoo can be found in the Classic Map.
Among the crowd at the goatfighting ring.
In his car drifting around the tall grass while a crowd cheers.
Joining protestors at a rally near the Helvete tunnel.
Talking on his [invisible] phone at the barbeque party (mobile version).
Ad blocker interference detected!
Wikia is a free-to-use site that makes money from advertising. We have a modified experience for viewers using ad blockers

Wikia is not accessible if you've made further modifications. Remove the custom ad blocker rule(s) and the page will load as expected.