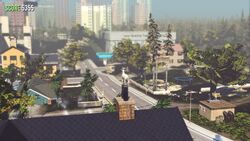 Goat Ville,[1] referred to when opening custom games as the Classic Map, is the setting of Goat Simulator. It is a hamlet located between the broader municipalities of Him Len and Helvete. Goats appear to have a strong connection with the community's heritage, which can be seen in structures such as Goathenge and Goat Castle. Residents also organize blood sports involving goats, similar to cockfighting, and one local video game studio can be seen developing a video game about a goat, a metahumorous joke on Goat Simulator itself. Deep in the hillside there is also a glowing pentagram etched into the earth, at the center of which is inscribed the skull of a goat. Goats are even shown to be domesticated by one household, although it is possible that goats pit against each other in the goatfighting ring are first held here in the home's animal pen. This is the pen where the titular goat begins her rampage. Furthermore, Goats: The Awakening is a popular book found in Goat Ville homes..
Recreation
Edit
Residents of Goat Ville have several methods of recreation. These range from hosting barbecue parties and goatfight matches to simply enjoying a walk or jog around the area. One resident, J.Sjoo, particularly enjoys showing off his driving skills in the town's open field. There is also a stage set up near the Helvete exit where a protest rally is held. Another area of interest is the community swimming pool, which contains an enormous water slide. During the events of Goat Simulator, the swimming pool area has been drained of water however.
References
Edit
↑

The Steam achievement "Goat Queen" contains the description, "Become the Queen of Goat Ville."