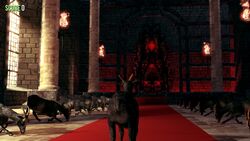 Goat Castle is a secret location in the video game Goat Simulator, found in the Classic Map. It can be accessed by teleportation through a cubby hole at the top of the goat tower. Beyond a large pair of wooden doors, a red carpet separates 16 goats who bow their heads as Pilgor approaches. This carpet extends up several steps to the Goat Throne. Jumping onto this throne warps Pilgor back to Goat Ville wearing a skull mask. The player is also awarded 2000 points for the Goats for the Goat Throne bonus.
Ad blocker interference detected!
Wikia is a free-to-use site that makes money from advertising. We have a modified experience for viewers using ad blockers

Wikia is not accessible if you've made further modifications. Remove the custom ad blocker rule(s) and the page will load as expected.