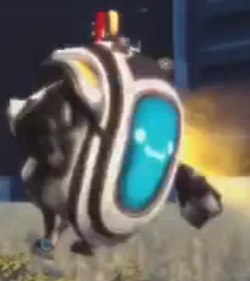 G2 is a character in the video game Goat Simulator. This robot can be found in a blue storage container suspended by a crane in the construction zone. G2 scrambles and jumps out of the container if Pilgor reaches it. He is also seen in a particular fair stall in the Carnival. He is a playable goat in the mobile version of the game, but otherwise doesn't appear in that version.
In Coffee Stain Studios AB's Sanctum 2, G2 is a robot companion to one of the main characters. His appearance in Goat Simulator is a reference.
He is seen in as a toy version is a store is Goat City Bay.
Ad blocker interference detected!
Wikia is a free-to-use site that makes money from advertising. We have a modified experience for viewers using ad blockers

Wikia is not accessible if you've made further modifications. Remove the custom ad blocker rule(s) and the page will load as expected.